Waist training is a popular Colombian method of slimming the waistline to achieve a desired body shape. It involves wearing a specialized corset or waist cincher (Faja) which is designed to cinch in the waist and help create an hourglass figure. To get started with waist training, you will first need to purchase a waist cincher from Kimmi Couture that fits you comfortably. It is important to choose one with an adjustable closure, so you can gradually tighten it as your waistline gets slimmer. When first starting out, you should wear the Faja for short periods of time, such as...
---
Lymphatic drainage massage is a type of massage therapy that helps relieve swelling and inflation that occurs when medical treatment or poor health causes blockages to the lymphatic system. This is the part of the body that protects us from infection and disease. The lymphatic system sits alongside the body's cardiovascular system, quietly helping to look after your health. The reason it is so important is because it performs three critical functions. It supports your immune system by removing toxins, dead blood cells, pathogens and other waste. It helps your body to absorb fats and fat-soluble vitamins from your digestive...
---
Did you know compression garments weather used for post-surgical or daily support helps the skin stick to the muscle? Specially after a person undergone cosmetic surgery, pregnancy or weight loss.Because the shaper helps mold and reshape the body, this is why surgeons required you to wear a compression garment for 6-12 months after liposuction, tummy tuck or fat transfer surgeries.We offer the best #ColombianFajas designed to help you heal and recover from surgery or pregnancy. For a Shapewear fitting, pre and post surgery simply TEXT or CALL Us! ☎️925.315.7043Click this link in  to schedule your in person fitting with our...
---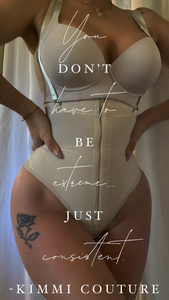 Hey Dolls Happy March! 2020 is really flying, Spring starts the 19th and summer will be here in no time ... Lets get straight to the point so over the winter I put on a few extra Lb's and fell of my faja wagon 100%! Traveling and living my best life indulging on food really got me and I gain 10 extra pounds and 5" around my waist, so I decided to get discipline and get back in to my waist training wagon. Every time I get serious about waist training and wearing my Kimmi Couture Faja, I reduce 2-3"...
---
Colombian Faja / Waist Trainer  What is a Faja (Waist Trainer)? The FAJA, Spanish for 'girdle', originated in Colombia, one of the planet's cosmetic surgery hubs.  Following surgery, doctors prescribe its use to reduce swelling and make sure affected skin tightens correctly on their patients. However, the medical use extended to the general female population as Colombian women realized the faja could also serve to accentuate their natural curves. Click Here to See what our Customers are saying What are the benefits of wearing a KIMMI COUTURE FAJA? The Faja is used to help achieve that "coke bottle" shape. Wearing a...